Kath Schubach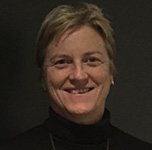 Kath Schubach
Nurse Practitioner
Kath Schubach is a qualified Nurse Practitioner. She has a Masters in Nursing and Post Graduate studies in Urology, Continence and Oncology Nursing. Her clinical expertise is working with uro-oncology patients at Peter MacCallum Cancer Centre.
Kath has extensive nursing experience in urologic malignancies as well as in general urology.
She has a particular interest in patients sexual health concerns. She currently manages a clinic two days a week for men with sexual health and erectile dysfunction needs.
Her professional associations are
Victorian Urological Nurses Society (VUNS) Deputy Chair
Vic Bladder Cancer Group-Chair
Australian and New Zealand Urological Nurses Society (ANZUNS)
Uro Oncology SIG-Chair
Australian and New Zealand Urogenital and Prostate Cancer Trials (ANZUP)
Scientific Advisory Committee
Australian College of Nurse Practitioners (ACNP)
Clinical Nurses Society of Australia (CNSA)